I Work With You to Create a Custom Nutrition Plan & Healthy Habits
My goal is to help support and empower you to build a strong healthy body, regain your energy and feel your best through addressing eating habits, exercise and lifestyle.
You will be ready to face anything life throws at you!
Weight Loss
Stop dieting once and for all. Learn how to use real, flavorful food to nourish your body in a way that will encourage the fat to fall away. Most diets are restrictive, leaving you craving more than ever and losing muscle as well as fat, leaving you at risk of bone weakness.
We need protein, fat and some carbohydrates – in that order. You will gain an understanding of why that is and how to tweak the amounts of macronutrients for your desired outcome.
Lifestyle Management
Managing our health is about mindset as much as it is about our nutrition and exercise and minimizing toxins.  When you know yourself and know that you can trust your intuition, you will be unstoppable.  We will work together to develop a tool box of solutions to support you in all areas of your life so you can thrive in your golden years.
Weight Maintenance
It is one thing to lose some weight, but can you keep it off?  Your healthy lifestyle has to be doable for the long haul.
If you put in a little effort up front, you won't want to go back to your old lifestyle.
I am not just telling you what to do, but I will empower you learn your deep inner workings.  You will have the tools to manage your own healthy lifestyle for life, and teach others how to succeed too!
Give a person a fish, they eat for a day.
Teach a person to fish, they eat for a lifetime.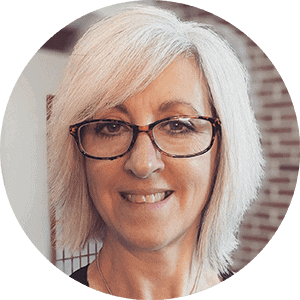 I'm not looking to make you co-dependent on me, I want to empower you to maintain your newfound healthy lifestyle.
My Story
Meet Miriam, Certified Personal Trainer, Certified Pilates Instructor, Holistic Nutrition & Weight Loss Coach
I'm Miriam Colomby; health enthusiast, owner, fitness & nutrition coach and Pilates instructor at Women's Only Health & Fitness.
As a child and young adult I struggled with many common health issues, but was unsatisfied with the lack of answers.  Thankfully I had people in my life who supported and guided me in my journey to solving my health concerns through nutrition and lifestyle changes.
This knowledge has helped me support my body to heal allergies & chronic sinus issues, fibrocystic breasts, thyroid disease, chronic headaches, and go through menopause – symptom free.
I am a passionate nurturer and have used the tools I've learned to help my family, friends and clients improve their health and lives so that we can all have the hope of healthy, active aging.

Here to Help
If you are unhappy with the current state of your health, I would be happy to share my knowledge with you and help you create the body and health you have been longing for.
My Approach
I empower women with knowledge and tools to create their best health through a holistic and functional approach. We are our own best advocate, and who knows your body better than you?
Miriam Colomby was first introduced to me by a friend who has been her client for several years.
I started training with Miriam a few months ago. From the very first session, I realized that Miriam has a unique approach to fitness, in other words a holistic approach. Because Miriam is very knowledgeable about nutrition, her training naturally incorporates that component. She sees the body as whole, and not only in parts.
Miriam quickly adapts to her client, and tailors sessions not only according to the client's desires, but also to her client's own personal situation, which she makes herself aware of by first having the client fill out a very detailed questionnaire, including eating and lifestyle habits.
Miriam is very knowledgeable about whole-body training, and she demonstrates every move with a lot of precision and ease. She walks the talk, as they say. She also keeps herself up to date in the fitness and nutrition fields.
Miriam is very professional yet very personable, and has a great sense of humour. She is extremely patient and tolerant. She is also very flexible, and very understanding. And I will add something which is very important I believe in her line of work: a model of diplomacy and tact.
After every session with Miriam, I feel simply fantastic, both physically and mentally.
I am grateful Women's Only Health & Fitness exists.
Frequently Asked Questions
What to expect?
I want to lose weight, improve my health and get active. Where should I begin?
If you have excess weight or any health concern, the best place to begin, believe it or not, is in the kitchen.  If we're suffering from mal-nourishment, no amount of exercise is going to fix that.
I've had my health issues for so long, is there any hope for me?
My answer is always, "as long as you are alive there's hope for you".  In the past few decades we've seen a resurgence in the practice of 'functional medicine', or some refer to it alternative medicine. 
Alternative to what, you may ask?  It's an alternative to the allopathic, Western practices of our common medical doctors, who admittedly don't have all the answers.  The functional medical approach is informed by a deep knowledge base and practice of prevention and natural body support.  It just may have the answers your doctor couldn't provide you. 
A Little More About Me
Your Trainer, Miriam Colomby
I am a wife, mother, Grammie, and dog lover.  My favorite things are being out in nature with my family – including our chocolate lab Jethro.  My husband Danny & I love biking adventures or spending time on the water in the canoe.
When I am frustrated with technology my happy place is in the kitchen making healthy, happy food or in the garden, tending to the plants that will give us food.  I love to read and learn more about nutrition, essential oils, health and relating what I learn both to our lives and my fur kid.  I have discovered that the same rules apply for our furry friends too.
My mental and spiritual health is a priority, so I spend the first part of my day reading, meditating and journaling to set my day off right.
I continue to learn not only to help my life, but so that I can pass it down to my kids and their families for future generations to benefit also.
The 'kitchen' really is the 'heart of the home'!